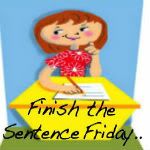 It's good to have a gang, even if it is a girly kind of gang that prefers to wear tshirts and yoga pants instead of leather jackets and hot pants. It's nice to have your peeps. So even though I'm a day late and about $200 short, I'm hooking up with Janine at Confessions of a Mommyaholic for Finish the Sentence Friday.
Today's – er, yesterday's – prompt is: "If I could live anywhere I would live…"
Now, what I need here is someone who can find me a mountaintop home with a view of
the beach and the ocean. I need one of those fantastical treehouse homes that come complete with floor to ceiling windows and huge stone fireplaces. This would give me the ability to go snowboarding with my family when I want, build snowmen and have snowball fights, and cuddle by a huge fireplace drinking hot chocolate (til the kids go to bed) and laughing and loving. (I may be reading too many romance novels. Not sure yet.)
Then I need my beach house, precisely like the one in "The Thomas Crown Affair," the version with Pierce Brosnan. I need it be secluded and yet totally modern with all the
updated amenities. I need to be able to sunbathe in the nude (like that would ever happen) and not worry about prying eyes. The kids need to be able to play in the sand and surf without nagging me constantly or trying to leave with other, "cooler" families.
Oh, and if there's any way possible that it could have some highland areas, like in Scotland, with a medieval castle where our super fabulous friends live, that would be excellent.
If you're doing real estate on the side and you know where this place is, give me a call as soon as you can because I'm probably going to need to start saving pretty soon.
Where have you always wanted to live?

The following two tabs change content below.
Specializing in Family Lifestyle, you'll find me mumbling my way through the mayhem of marriage and motherhood. Other ways to label me? Wife. Mom. Entrepreneur. Crazy lady. Searching for the perfect chocolate bar and a quiet place to nap.